Venue
Congress Centre of Elche (Ciutat d'Elx Congress Centre),
<![if !vml]>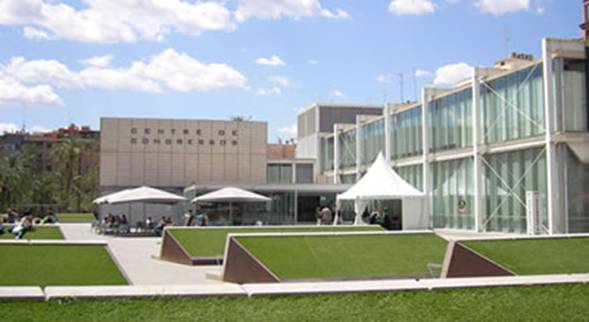 <![endif]>Calle Filet de Fora, 1, 03203 Elche (Alicante, Spain)
The climate, good communications to Airport and proximity to centers of economic activity, make Elche ideal for holding conferences and business meetings enclave.
Congress Centre Ciutat d'Elx is located in an environment of great attraction in the historic center of the city of Elche/Elx. It is a modern building, equipped with the most advanced infrastructure, which has become the main reference for conducting meetings in the southern province of Alicante.
For information of the city click here
Theater: The auditorium is a great place for holding all kinds of events thanks to its intelligent and practical design and latest technology equipment. It has excellent acoustics and comfortable seats with workbench.
The Showroom: The Exhibition Hall, located on the ground floor is a large open space with multiple solutions. Besides its fair character, it can be enabled for various applications with different capacities of public, like the feast (430), receiving (700), class (150) and theater (300).
The Multipurpose Rooms: The Multipurpose Rooms, located on the second floor are two twin rooms prepared for performing all kinds of activities. They are separated by a wall practicable to unify both spaces and doubling both area and capacity.
Conference Room: Conference Room, larger than the multi-purpose, is equipped with anatomical seats that also have practical workshops. It is ideal for conferences, classes and meetings space.
Complementary Services: The Centre and Conference Centre offers complementary spaces that function as Executive Office, Press or VIP Lounge. Also offers technology support staff and underground parking with 436 spaces.
More information: http://www.visitelche.com/en/business-tourism/centro-de-congresos/
MAP OF CITY CENTER WITH UNIVERSITY AND CONGRESS CENTER
<![if !vml]>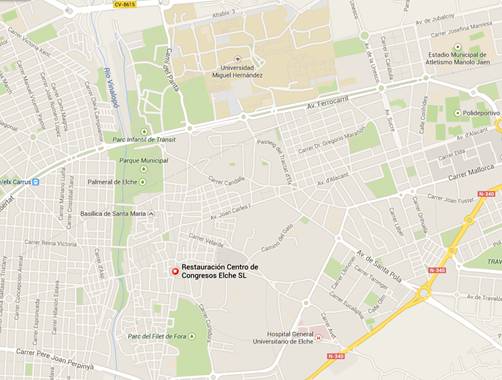 <![endif]>
Official pages for Visit Elche: Visitelche (Tourist Information)